Helloooo!
As you can feel, it is getting colder now! Gosh i don't like this weather because I am just a summer lover, always will and always be. But i love new clothes and with this weather you also have a lot of nice clothes you can wear, To keep yourself warm in these cold days! I have seen a lot of things ofcourse so will show you some really nice things.
I always think! You do not have to spend much money to buy nice clothes! And if you like it? Just wear it, because it's fun to be different!

Lots of love, Maxime
---
Flared jeans from Subdued: € 29.00
I am in love with flared jeans, they are sooo comfy and they fit with everything. I like the color Black because it is a basic color so you can wear it with more colors! What I also really like about this one; it is velvet!! You see so much velvet now, I find that really nice! want to wear a fine dust and is so soft!
http://www.subdued.com/eu_en/clothing/trouser-flared-ay94p87?col=105
---
Kanten top from Loavies € 21,95
I love these tops ! They fit perfect on a Flared jeans. You can also wear a white t-shirt under the top, but i also like it without the shirt. These tops are really nice and classy, love that!
https://www.loavies.com/nl/kleding/dames-tops-shirts/loavies-zwarte-kanten-top-13836.html
---
light wash denim jack met slogan
from River Island €65,00
I love jackets like this and I haven't seen this one by someone yet. So i really like this one! I like to match darker colors with one or two lighter colors. Like this jacket!
http://www.riverisland.nl/women/coats–jackets/denim-jackets/light-wash-slogan-back-denim-jacket-690864
---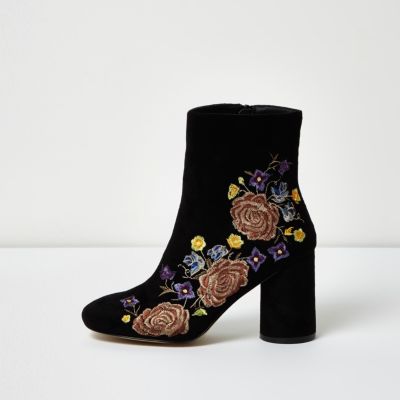 Black ankle boots with embroidered flowers €60,00
I really like these. They are really cool with the flowers. I see a lot of black ankle boots, but i didn't saw this one yet. So they are really original. And i love that!
http://www.riverisland.nl/women/shoes–boots/boots/black-embroidered-floral-ankle-boots-691247
---
Combo Curb Chain Bag from Forever 21 €22,00
I love bags like this, If I go out or go shopping with someone i always have a bag with me and I prefer a bag like this. Because this one is not so big, so you can take it with you anywhere
http://www.forever21.com/EU/Product/Product.aspx?BR=f21&Category=acc_handbags&ProductID=1000250528&VariantID=